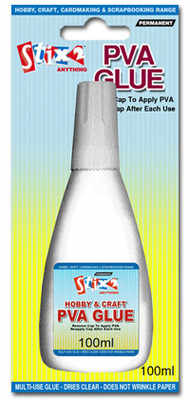 Stix 2 Hobby and Craft PVA Glue - 100ml
Apply only to clean, dry surfaces, free from dust, oil, grease, polish and moisture.
Recommendations are for guidance only, as conditions of use are beyond our control.
This adhesive is permanent and cannot be reversed.
Protect work surfaces and your clothes in case of accidental spillage.
To clean PVA from hard surfaces use a damp cloth. PVA spilt onto fabric or clothing should be washed out immediately using warm, soapy water. If the PVA is allowed to dry, the garment should be thoroughly soaked and then washed as normal.